Howdy folks,
We're getting ready to hit the year of the Monkey and we all know that monkeys are the pirates of the wild… it's gonna be a beautiful one for cuju! A lot of updates on this one so let's get started!
Superbowl 50
As per tradition, we've done our closed doors/20 seats only event and it's sold out. Please do not come to cuju Monday morning as we would hate to send  you away. Due to the deman this year, our sister venue, Caravan, is hosting the game as well on a 3 meter projector screen. The entrance fee is RMB50 redeemable for a drink. We'd love for you to head there! Here is a poster with details: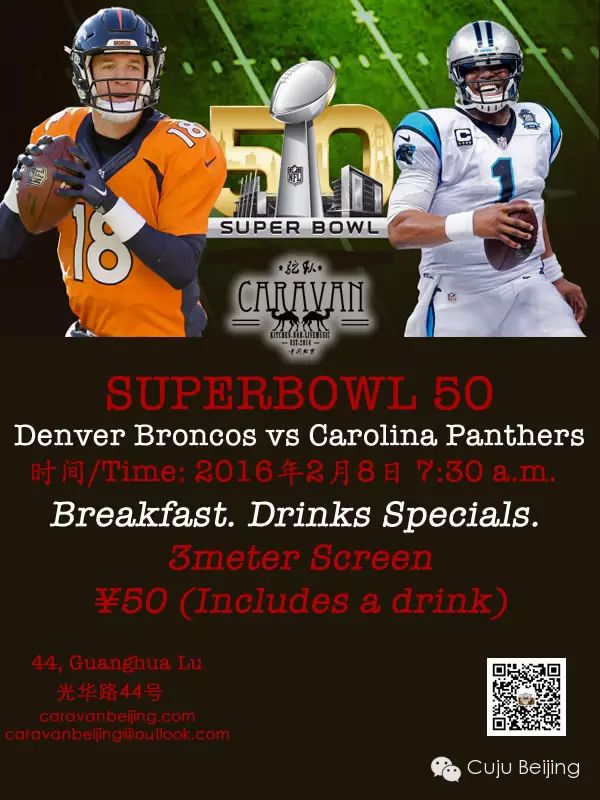 This Week in sports:

Saturday Feb 6th:

Premier League: Man City vs Leicester 8:30 pm
Premier League: Liverpool vs Sunderland 10:30pm

Bundesliga Berlin vs Dortmund 10:00 pm
Sunday Feb 7th:
Premier League: Arsenal vs Bournemouth 9:00 pm

Serie A: Juventus vs Frosinone 10:00 pm

Premier League: Chelsea vs Man United 11:30 pm


Holidays:
Cuju will close immediately after the superbowl to let our staff get some rest. We will be closed Mon-Thursday and reopen Friday February 12th.

After spring festival, please be ready for a new food menu and new cocktails with an ever increasing rum focus. May the luck of the monkey be with you.